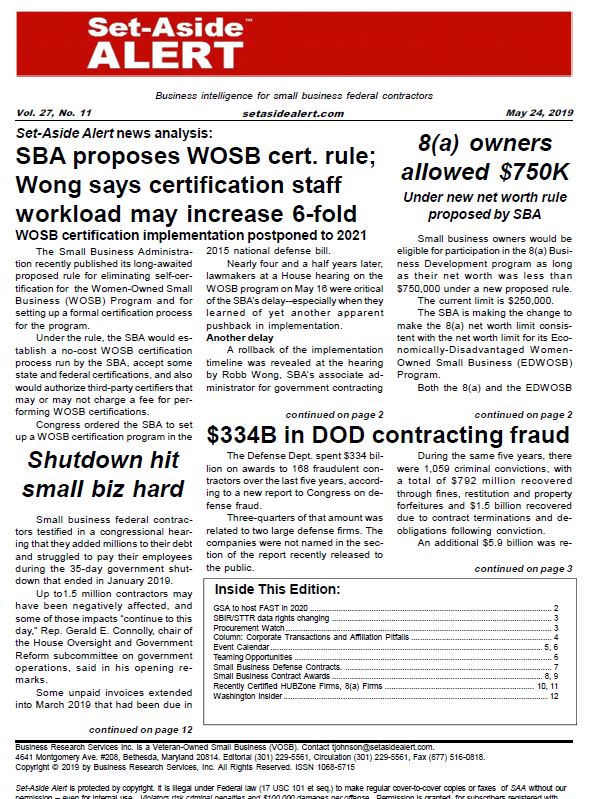 Click here for sample issue.
Click here for a sample of our
daily Contract Opportunities e-mail
Click here for our multiple quantity price list

Supreme Court rules against VA in small business contracting case

By Alice Lipowicz, editor, Set-Aside Alert

The Supreme Court ruled against the Veterans Affairs Dept. and in favor of a veteran-owned small business in the landmark Kingdomware Technologies case. The decision is being viewed as a major victory for veteran-owned small business federal contractors.

The court unanimously supported a decision written by Judge Clarence Thomas.

The court concluded that when Congress writes the word "shall" into a law, it intends to establish a mandatory obligation.... more...

Read Set-Aside Alert's complete analysis of the Kingdomware decision in the upcoming June 24 edition of Set-Aside Alert.
Set-Aside Alert is the premier federal government contract information service, focused on small businesses, minority-owned and women-owned businesses, veteran- and SDV-owned businesses, SBA 8(a)-certified companies and HUBzone businesses. Since 1992, our market intelligence service includes daily e-mail notices of all small business contracting opportunities and biweekly newsletters providing the latest news, insider tips and proven strategies used by successful small businesses.
Here's what people say about Set-Aside Alert:
"Thanks. Your publication provides an outstanding service to small businesses interested in doing business with the federal government." - President/CEO of small business in Miramar Beach FL
"Thank you for a great source of Small Business information." - USAF Small Business Specialist
"Tom, I appreciate your news from Set-Aside Alert...Set-Aside Alert is a must as we move forward." - SDVOSB business owner
"Set-Aside Alert...is always timely, useful and informative. We believe it to be a must-read in the Set-Aside market." - Homeland security contractor
"You provide a great publication with invaluable insider information that no small business should be without." - 8(a) certification consultant
"The day doesn't seem right without my Set-Aside Alert" - WOSB/SDB exec
"We subscribe to Set-Aside Alert and find it to be very informative." - GSA regional small business specialist
"[T]hanks for the information in the newsletter; I even find the older issues to have info of interest." - director, strategic partnerships of CMMI Level 3 small business
"The concise contract summaries are very helpful!" - account exec
"I learn more from Set-Aside Alert than from my own agency training program." - SBA staff member
- Click here for more information about Set-Aside Alert -