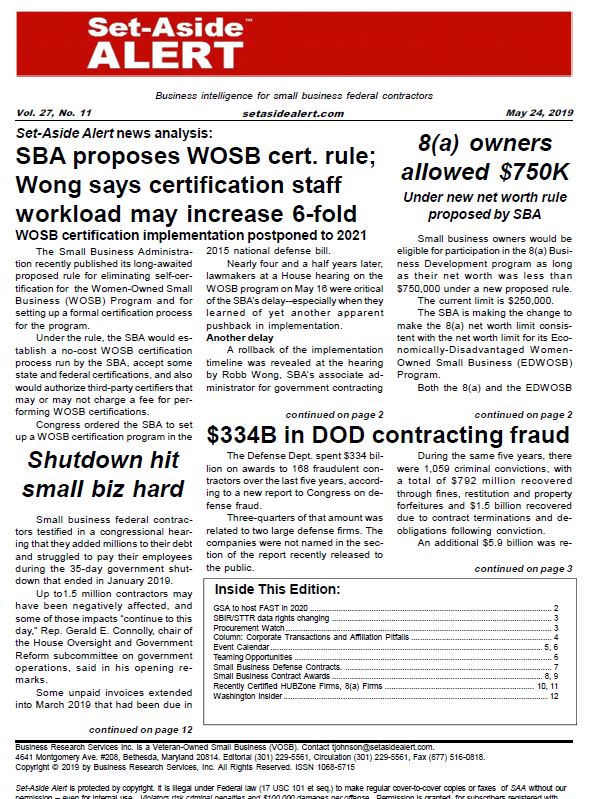 Click here for sample issue.
Click here for a sample of our
daily Contract Opportunities e-mail
Click here for our multiple quantity price list

Headlines from Set-Aside Alert

Jun 10 2022 issue:

USDA ramps up enforcement of contractor labor law compliance
PSL set-asides at NASA
HUBZone update: SBA reports on performance, goals for 2023
DoD: EPAs may be OK for inflation
House Small Business committee approves SBA legislation
SBA size forums in June
COFC backs "Late-is-Late"
House committee approves extension of PPP, EIDL fraud prosecution time limits to ten years
DoD: consider more telework for vendors
Overseas contracts now included in small business goals
Column: DoL Updates Language on Service Contract Act Wage Determinations...Again!
DoD Small Business Awards
Recently-Certified 8(a) and HUBZone Firms
Small Business Awards
Set-Aside Alert's coronavirus update
Calendar of virtual and in-person small government contractor events around the country
Set-Aside Alert's daily Opportunities email highlights the set-aside opportunities so you don't miss anything that is right up your alley! Our daily Contract Opportunity emails and bi-weekly newsletter with updates on regulations, small business programs, tips and teaming connections provide actionable intelligence to make your company a winner. Click the link in the left column to view a sample issue!
New subscriber? Click here to subscribe today!
We email our Opportunity Alerts early every business day and post our bi-weekly newsletters on our private subscription site every other Thursday, so you can read them anywhere.
Set-Aside Alert is the leader in contract alerts, news and information for small business federal contractors. Our team jumped on the FBO transition problem and has been posting all the new set-aside opportunities and sources sought notices on beta.SAM daily since the conversion, usually by 8 AM so you'll have plenty of time to evaluate and jump on contracts of interest. These include Sources Sought and RFI notices to give you early warning!
Set-Aside Alert does the job for you - daily contract opportunity alerts, bi-weekly news and information reports, webinars and seminars covering topics like mentor-protege and government marketing tips.
Set-Aside Alert is the premier federal government contract information service, focused on small businesses, minority-owned and women-owned businesses, veteran- and SDV-owned businesses, SBA 8(a)-certified companies and HUBzone businesses. Since 1992, our market intelligence service includes daily e-mail notices of all small business contracting opportunities and biweekly newsletters providing the latest news, insider tips and proven strategies used by successful small businesses.
Here's what people say about Set-Aside Alert:
"Thanks. Your publication provides an outstanding service to small businesses interested in doing business with the federal government." - President/CEO of small business in Miramar Beach FL
"Thank you for a great source of Small Business information." - USAF Small Business Specialist
"Tom, I appreciate your news from Set-Aside Alert...Set-Aside Alert is a must as we move forward." - SDVOSB business owner
"Set-Aside Alert...is always timely, useful and informative. We believe it to be a must-read in the Set-Aside market." - Homeland security contractor
"You provide a great publication with invaluable insider information that no small business should be without." - 8(a) certification consultant
"The day doesn't seem right without my Set-Aside Alert" - WOSB/SDB exec
"We subscribe to Set-Aside Alert and find it to be very informative." - GSA regional small business specialist
"[T]hanks for the information in the newsletter; I even find the older issues to have info of interest." - director, strategic partnerships of CMMI Level 3 small business
"The concise contract summaries are very helpful!" - account exec
"I learn more from Set-Aside Alert than from my own agency training program." - SBA staff member
- Click here for more information about Set-Aside Alert -