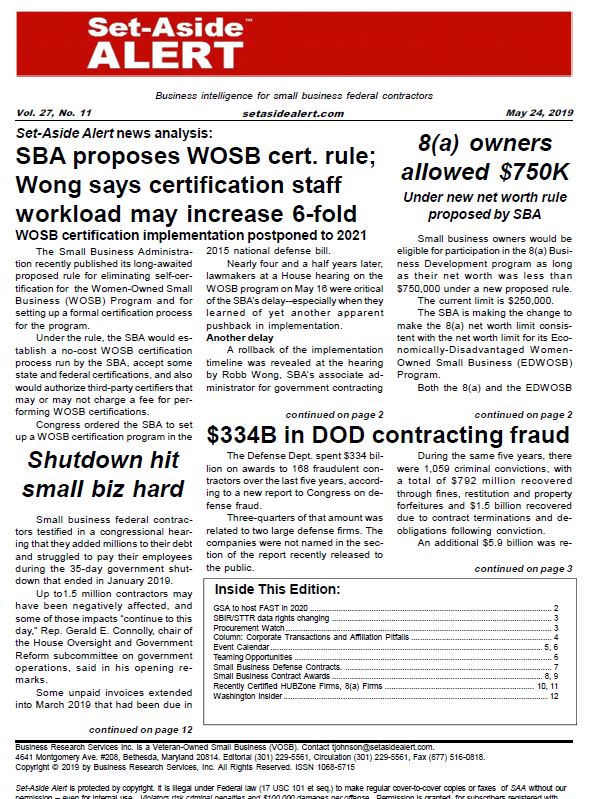 Click here for sample issue.
Click here for a sample of our
daily Contract Opportuntities e-mail

The Set-Aside Alert service brings everything you need to be a success in the Federal market right to your desk. Here's how:
The daily e-mail:
All newly-released Set-Aside Contract Opportunities - The newest set-aside contract opportunities with a short description of each project, contact names, phone numbers, web addresses. Also, Sources Sought and Presolicitation Notices, so you can get in at the front end of the acquisition process, and ask that opportunities be set-aside for your company category.
On your desk generally by 8AM Eastern Time every morning.
Make sure you know about new opportunities as soon as we know about them. We e-mail summaries of every new federal small business contract opportunity, categorized by product or service, to your desk or PDA every day.

The biweekly newsletter. Contents include:
News Stories and Interviews - The inside scoop on what the government and Congress are doing and what it will mean to you. Changes in government regulations, acquisition reforms, new initiatives, and what you need to know to compete successfully under new rules. Extremely useful to small businesses, prime contractors, and federal executives alike.
Teaming Opportunities - A list of firms seeking teaming partners. Use this to find profitable ventures for your company or advertise your own FREE listing.
Effective Business Practices - Columns and advice from legal, accounting, proposal writing, and other professional advisors focusing on small business.
Recent Awards - Find out who is winning contracts from what agencies at specified prices.
Certified Companies - 8(a) companies, certified HUBZone firms, certified Service-Disabled Veteran-owned firms. Find partners for future business, peer-guidance on getting certified, prospects for your company's sales.
The 12-year archive, fully searchable, covering issues and opportunities since 2003.
Click here to learn 12 ways to use Set-Aside Alert for success!
If you are a business executive or manager at a small business, or a minority or woman-owned, HUBZone or Service-Disabled Veteran-owned business, subscribe now and start gaining your contracting edge. If you are an executive in government or a prime contractor, subscribe now to stay up-to-date on the regulations, legislation and policy developments that will affect you and the small business contractors who want to work for YOU!
Here's what people say about Set-Aside Alert:
"Thanks. Your publication provides an outstanding service to small businesses interested in doing business with the federal government." - President/CEO of small business in Miramar Beach FL
"Thank you for a great source of Small Business information." - USAF Small Business Specialist
"Tom, I appreciate your news from Set-Aside Alert...Set-Aside Alert is a must as we move forward." - SDVOSB business owner
"Set-Aside Alert...is always timely, useful and informative. We believe it to be a must-read in the Set-Aside market." - Homeland security contractor
"You provide a great publication with invaluable insider information that no small business should be without." - 8(a) certification consultant
"The day doesn't seem right without my Set-Aside Alert" - WOSB/SDB exec
"We subscribe to Set-Aside Alert and find it to be very informative." - GSA regional small business specialist
"[T]hanks for the information in the newsletter; I even find the older issues to have info of interest." - director, strategic partnerships of CMMI Level 3 small business
"The concise contract summaries are very helpful!" - account exec
"I learn more from Set-Aside Alert than from my own agency training program." - SBA staff member